In Their Footsteps: Women's Leadership in the Bible and Today
Recommended Grades:
10, 11
Duration:
Semester
Offered As:
Online course taught by Lookstein staff

In Their Footsteps: Women's Leadership in the Bible and Today is a first-ever online leadership workshop for young women in 10th and 11th grades. This semester-long course will encourage young women to develop their confidence, voice, and vision, and will provide them with the practical skills to become leaders in their communities. With Biblical women as their inspiration, a devoted expert in women's leadership to guide them, and the power of a cohort of fellow young Jewish women to propel them forward, these women will work together on real-world projects and develop their own unique leadership qualities and skills.

"The course [helped me] develop a leadership style, a leadership voice, and many other leadership skills. Beyond helping me to become a better and more productive leader, it is also helping me to become aware of and to appreciate other leaders and their meaningful or even unhelpful work; I am able to reflect on leaders' choices and make my own judgments about them." – Participant, Fall 2017

"The course material… is REALLY interesting. I love all of the videos and activities…I LOVE the parts of each unit that tell about the biblical female leaders… I love the material!" – Participant, Fall 2017

"[Our facilitator] is a wonderful, warm, and inspiring mentor. I have loved and relished in the experience of learning from her. She is a great leader, and to me, she exemplifies exactly what we are all striving to become through this course. I am so grateful for her guidance and for this class." – Participant, Fall 2017

"This course turned out to be what I expected, only 1 million times better…[For my social action project] I raised awareness about the Thirst Project (an organization which provides clean drinking water to people in third world countries for the rest of their lives)…[among a] large amount of friends, families, and even strangers. This project helped improve my leadership skills… and I really took action within the world and my community." – Participant, Spring 2018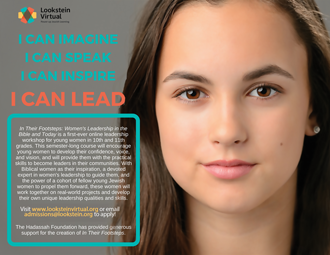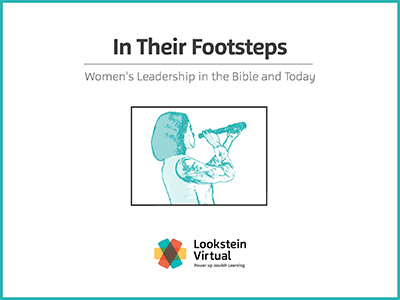 For parents: email us at admissions@lookstein.org
for more information and to register.
For teachers and administrators:
please complete the form below to get started.
"*" indicates required fields