From Names to a Nation
Shemot, Chapters 1-13
Recommended Grades:
9, 10, 11, 12
Duration:
Semester
Offered As:
Online course taught by Lookstein staff, Digital curriculum for local teachers

"And these are the names…" (Shemot 1:1)

In this course on Sefer Shemot, students will learn about the significance of names and anonymity in the narrative of Bnei Yisrael's first galut (exile) and geulah (redemption). Students will trace the common heritage, formative experiences, and leaders that transform a family of seventy individuals into a nation with common aspirations.

This course will model close reading of the text and expose students to textual analysis skills using classic, medieval and modern day commentaries. Students will employ literary tools to uncover the rich messages embedded in the Shemot narratives.

"I really like that we are interpreting the story because even though I have learned it before, this course gives me a deeper understanding of what is actually going on." – Denise, 11th grade student

Four course versions available: 9-10 Standard, 9-10 Honors, 11-12 Standard, 11-12 Advanced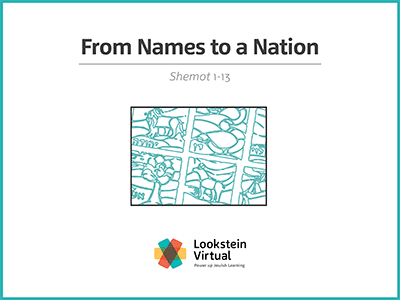 For parents: email us at admissions@lookstein.org
for more information and to register.
For teachers and administrators:
please complete the form below to get started.
"*" indicates required fields