Remembering the Holocaust
1933-1945
Recommended Grades:
11, 12
Duration:
Semester
Offered As:
Online course taught by Lookstein staff, Digital curriculum for local teachers

The tragedy of the Holocaust can still be felt today. Students study the core historical narrative and grapple with difficult questions: How was the destruction normalized? What role did different people play? What can this period teach us about human behavior? As they explore the rich history of European Jewry and then its systematic destruction, students investigate their nation's story during this devastating period and seek a way to memorialize it.

"Even after taking many lectures and classes on the horrific details of the Holocaust, I learned so much more with this course and, more importantly, realized there is still much to learn. I would again like to thank you with the utmost sincerity. It really has been a pleasure and I enjoyed this course." – Rafael, 12th grade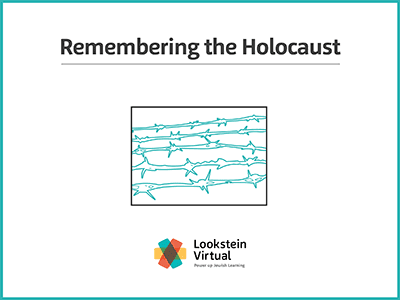 For parents: email us at admissions@lookstein.org
for more information and to register.
For teachers and administrators:
please complete the form below to get started.
"*" indicates required fields