Constructing a Kingdom
Melachim/Kings I 1-11
Recommended Grades:
8 Honors Only, 9 Standard Only
Duration:
Semester
Offered As:
Online course taught by Lookstein staff

Students will trace the tale of HaMelech Shlomo (King Solomon) from the dramatic intrigue and sibling rivalry that propelled him to the kingship, through the moment of his crowning achievement, the completion of the Temple–the Beit Hamikdash–until his death. By virtue of his skilled leadership, renowned wisdom, and God's blessing, Shlomo transformed Jerusalem into a vibrant, international capital of a united nation. In this semester-long course, students complete a close reading of the text, focusing on the role and symbolism of the Beit Hamikdash and the leadership of Shlomo.

"[My teacher's] excitement was very contagious throughout this course. It was fun to see her just as excited as i was to learn." –  Emma, 8th grade student

"I enjoyed interpreting Shlomo's decisions… I'm sad our course is ending soon!" – Naomi, 8th grade student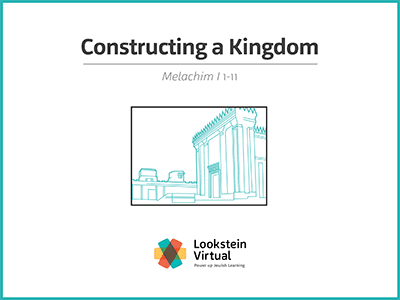 For parents: email us at admissions@lookstein.org
for more information and to register.
For teachers and administrators:
please complete the form below to get started.
"*" indicates required fields